More than 250 accredited testing services spanning a wide range of materials from concrete to soil to asphalt premixes are available from us. We also have a Structural Diagnostics department that specialises in diagnosis of existing buildings, soil investigation activities and non-destructive tests of both concrete and steel.
As the world population continues to grow, new infrastructure needs to be built and existing infrastructure needs to be maintained to ensure a high standard of living. Despite the increased pace of construction, safety standards cannot be compromised as this has a direct impact on the lives of millions of people. To face this challenge, CAST Laboratories has committed itself in providing independent testing, inspection and certification services that meet local and international standards. The credibility and accuracy of CAST Laboratories' reports is why many companies in Singapore, Malaysia, Indonesia and other parts of Asia rely upon CAST Laboratories' comprehensive range of services.
CAST Laboratories has a long history in testing services that dates back to 1981. From a small concrete testing facility in Singapore, CAST Laboratories has grown to become a highly-trusted testing laboratory in the region and an accredited laboratory roundly recognised by government bodies.
To drive its expansion into Asia, the company does not rest on its past achievements but continues to push itself to improve in every aspect of testing services. This is part of CAST Laboratories' relentless quest to stay ahead of its clients' testing requirements.
Guided by its corporate values of Integrity Reliability and Unity, CAST Laboratories is ever closer to realising its vision of "Contributing To A Safer Environment". The company understands that the only way to become Southeast Asia's leading testing company, and stay that way, is to deliver assured test results every time.
CAST Laboratories Pte Ltd
Trusted for Testing Since 1981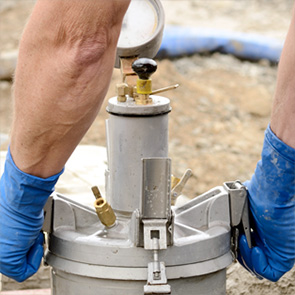 Concrete Cube Testing: Measurement of air content in fresh concrete